Chứng kiến sự tiến bộ không ngừng đến từ hai tiền vệ trẻ Arthur Melo và Frenkie de Jong, cộng thêm việc các ngôi sao còn lại nơi tuyến giữa như Arthur Melo hay Sergio Busquets đang cho thấy được sự ổn định cần thiết, thì giờ đây, Ivan Rakitic đã phần nào nhìn ra được tương lai của anh tại Barcelona đen tối đến như thế nào.
Bất chấp những đóng góp to lớn mà cầu thủ người Croatia làm được suốt những năm vừa qua, BLĐ đội bóng xứ Catalan vẫn lạnh lùng đẩy anh xuống băng ghế dự bị và tạo điều kiện ra sân tối đa cho bản hợp đồng bom tấn De Jong.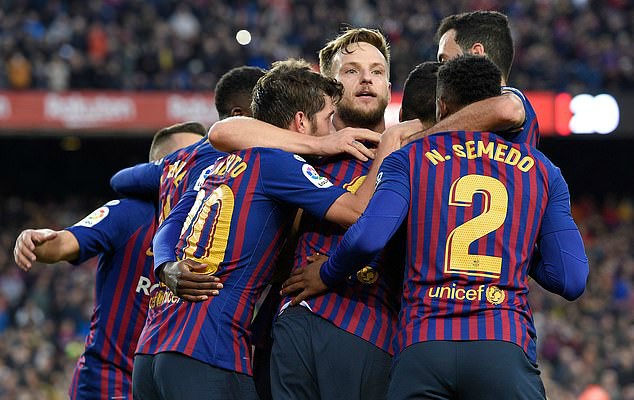 Theo thống kê từ Transfermarkt, tính từ đầu mùa giải đến nay, Rakitic chỉ ra sân vỏn vẹn 186 phút và chưa để lại bất kỳ đóng góp nào cho Barca. Vì thế, phía thượng tầng Blaugrana đang tính đến việc sẽ bán anh trong kỳ chuyển nhượng mùa Đông sắp tới nhằm giải phóng không gian nơi hàng tiền vệ.
Sau khoảng thời gian hội ý, theo nguồn tin từ The Sun, các thành viên cao cấp của CLB đã thống nhất mức giá rao bán cầu thủ người Croatia, họ tuyên bố sẽ để Rakitic rời đi nếu nhận được mức phí rơi vào khoản 35 triệu euro.
Đối với một tiền vệ chất lượng như tiền vệ 31 tuổi, số tiền kể trên hoàn toàn không quá đắt đỏ. Vì vậy, ở kỳ chuyển nhượng sắp tới, các CLB có ý định chiêu mộ anh từ lâu như Inter Milan, Juventus hay Manchester United nhiều khả năng sẽ sớm đưa ra động thái để chốt hạ thương vụ này.
Màn trình diễn của Rakitic tại Barca:
Trường Sơn | 19:00 16/10/2019